---
Welcoming a New Year (Vol. 90, No. 1)
by Rabbi Joshua M. Davidson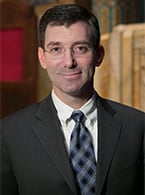 Dear Friends,
I hope the summer has brought you time for a refreshment of spirit. As always, our talented staff has been hard at work these past months, planning for the year ahead. Now as 5778 approaches, I am pleased to share with you some important programmatic and staffing updates.
Conversations With the Most
Influential Leaders of the 21st Century

The extraordinary gift made by Temple President John Streicker, Barbara and their family has enbled us to expand our Streicker Center with thrilling new offerings unique in the synagogue world. Consequently, we are redefining synagogue engagement by bringing many who previously attended only on the High Holy Days through our doors on a monthly if not weekly basis.
As Jews, we express our religious identity in myriad ways, each according to our passions and interests — be they cultural, sociopolitical, academic or spiritual — and our programs touch them all. On October 16, we will sing with Hershey Felder. On October 19, we will laugh with Mel Brooks. On November 19, Alan Dershowitz again will engage us in the most captivating form of Torah study as he defends the mother of humanity in "The People vs. Eve." Former U.S. Senator Kelly Ayotte, from New Hampshire, will prosecute.
And in the coming months, we will welcome to Temple Emanu-El some of the 21st century's most influential political leaders: Secretary of State Hillary Clinton on November 1; President Barack Obama on January 24; Vice President Dick Cheney on March 7; and Secretary of State Colin Powell on June 4. At a time of considerable division in our nation, the perspective of these historic figures on the challenges of moral leadership, certainly an issue of Jewish concern, will be fascinating to hear. This will be Secretary Clinton's only public appearance in New York related to her new book and President Obama's first post-election public appearance in New York, extraordinary honors for our congregation.
A Warm Welcome and a Fond Farewell
In June, our associate rabbi, Allison Tick Brill, announced that she will be leaving us after the High Holy Days as her husband, David, accepts a unique professional opportunity in their hometown of Chicago. Rabbi Tick Brill's departure will be a great loss for us. Gifted in so many ways, Ally has invigorated our Religious School and teen activities, our inter-religious dialogue, our outreach to young professionals, our Discovering Judaism program, and of course our worship. As a pastor, she has stood beside us in sorrow and joy. And as a colleague and partner, she is beloved by our entire staff team. We will honor her with a service of farewell on Friday, October 6. Our search already is underway for a new assistant rabbi to join us in July 2018, one who will build on Rabbi Tick Brill's considerable accomplishments and enrich our congregation with his or her unique passions and strengths.
For the coming year, following the High Holy Days, we will welcome Rabbi Sarah Reines, who will serve us full time as an interim associate rabbi, through June 2018. Rabbi Reines was ordained from the Hebrew Union College-Jewish Institute of Religion (HUC-JIR) New York Campus in 1997. She also holds a master's degree from Brandeis University's Hornstein program and has trained as a hospital chaplain. Early in our careers, Sarah and I served together at Central Synagogue, her home for 15 years. (Actually, we have known each other since the third grade.) A lifelong member of Temple Emanu-El, Sarah is the daughter of Miriam Reines and Borah, of blessed memory. And it is our joy to welcome her; her husband, Richard; and their two daughters, Talia and Noa, back home. Rabbi Reines' creativity, leadership and skills as a pastor and teacher will be a gift to us.
We also welcome to our congregation as an adjunct rabbi, Sara Sapadin, herself a wonderful talent. Rabbi Sapadin will join us on the
bimah
during the High Holy Days and monthly after that. She will teach in our weekly Torah study class, oversee our outreach to young professionals and shepherd students through our Discovering Judaism program. A native of San Diego and a Harvard graduate, Sara was ordained by HUC-JIR in 2007. She trained as a hospital chaplain at New York Presbyterian Hospital and, along the way, has served congregations in Ohio, Vermont and Great Neck, and at Temple Israel, just a few blocks away.
With the ordination of Cantor Richard Newman, Alexandra Kurland joins us as our new cantorial intern. Classically trained, Alex is studying for the cantorate at HUC-JIR and will be a regular presence on the
bimah
and in our Religious School.
We welcome Rabbi Reines, Rabbi Sapadin and Student Cantor Kurland to our clergy and our congregation with great joy, knowing their leadership and presence will strengthen us.
Keep in Touch
It won't be long before we see each other on Rosh Hashanah. I look forward to it! In the meantime, and afterward too, please never hesitate to be in touch with any questions or thoughts. I am most grateful for every opportunity to be together. Until we are, my warmest wishes that 5778 be good and sweet for you and those you love, and for our entire congregational family.
Very truly yours,
Rabbi Joshua M. Davidson
---
NOTE: You must be logged in to post a comment. Log in now »
Back to Blog