---
Day 9: December 31, 2014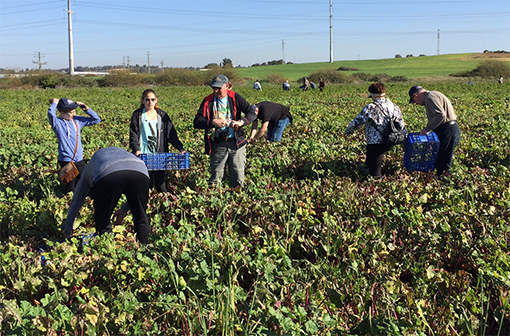 Today was a dirty day!
We started by going out to a farm to pick beets. That might sound like a strange thing to do in Israel, but we just couldn't imagine a trip without doing something good for others. Together we picked about a ton of beets (literally, one ton). That will feed 200 families!
Afterwards we had a bite to eat at a local mall. It was neat to see how similar and how different things are: lots of familiar stores but some new ones, too.
Then, we got dirtier with an archaeological dig at
Beit Guvrin
. We went down into an ancient basement, 2,000 years old. We found pottery, animal bone and even a snail shell from the animals they used to make the fringes of the prayer shawl! The rabbi was particularly excited about that (of course).
We ended the very long day with some time on our own in Tel Aviv, although many of us showered (trying to get the dirt off proved difficult) and turned in early.
« Back to Family Trip to Israel
NOTE: You must be logged in to post a comment. Log in now »
Back to Blog