---
Day 8: December 30, 2014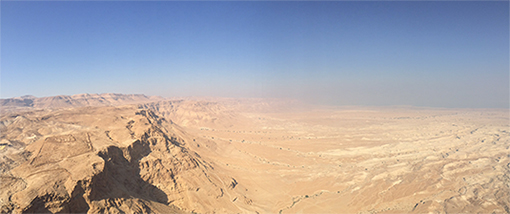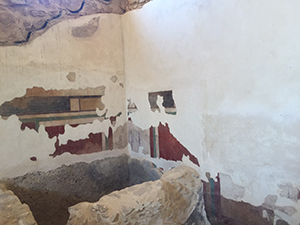 Fresco from thousands of years ago
On Tuesday, December 30, we went to
Masada
.
The walk up Masada is around 2 miles. Some walked the long and tiring hike, while others took the cable car. Once we made it to the top, we walked around learning about the four Ds: dinner, defense, drink and dollars. The first D, dinner — we learned about what Herod ate. For breakfast he would eat a fresh omelet; for lunch he would eat a nice juicy steak; and for dinner he would eat other fresh meats. We also learned about the Romans and zealots (Jews) and their battles. And, we learned and saw how and what they bathed in.
Click on the thumbnails below to see larger images.
---
Today we also went to the
Dead Sea
.
There were lots of people. When we got there and got changed, we all put on mud. We smeared it all over our bodies. It is supposed to make our skin soft. We were supposed to let it dry, but no one really did. In the beach there were sharp rocks and salt, so we had to wear shoes. From the mud we made the trek down to the water. There, we took of our shoes and climbed over the rocks into the water.
As soon as you enter the Dead Sea, your legs will float up and you will sit. Or, you can go on your stomach and float. In the Dead Sea we were all very careful to not get the water in our mouths, eyes or ears. If you have a cut in the Dead Sea, it stings. (I learned the hard way!) After the Dead Sea we had to go and rinse ourselves off so the mud would come off. After everything, our skin was really soft and smooth. The Dead Sea was very fun!
— Sydney Zgodny
---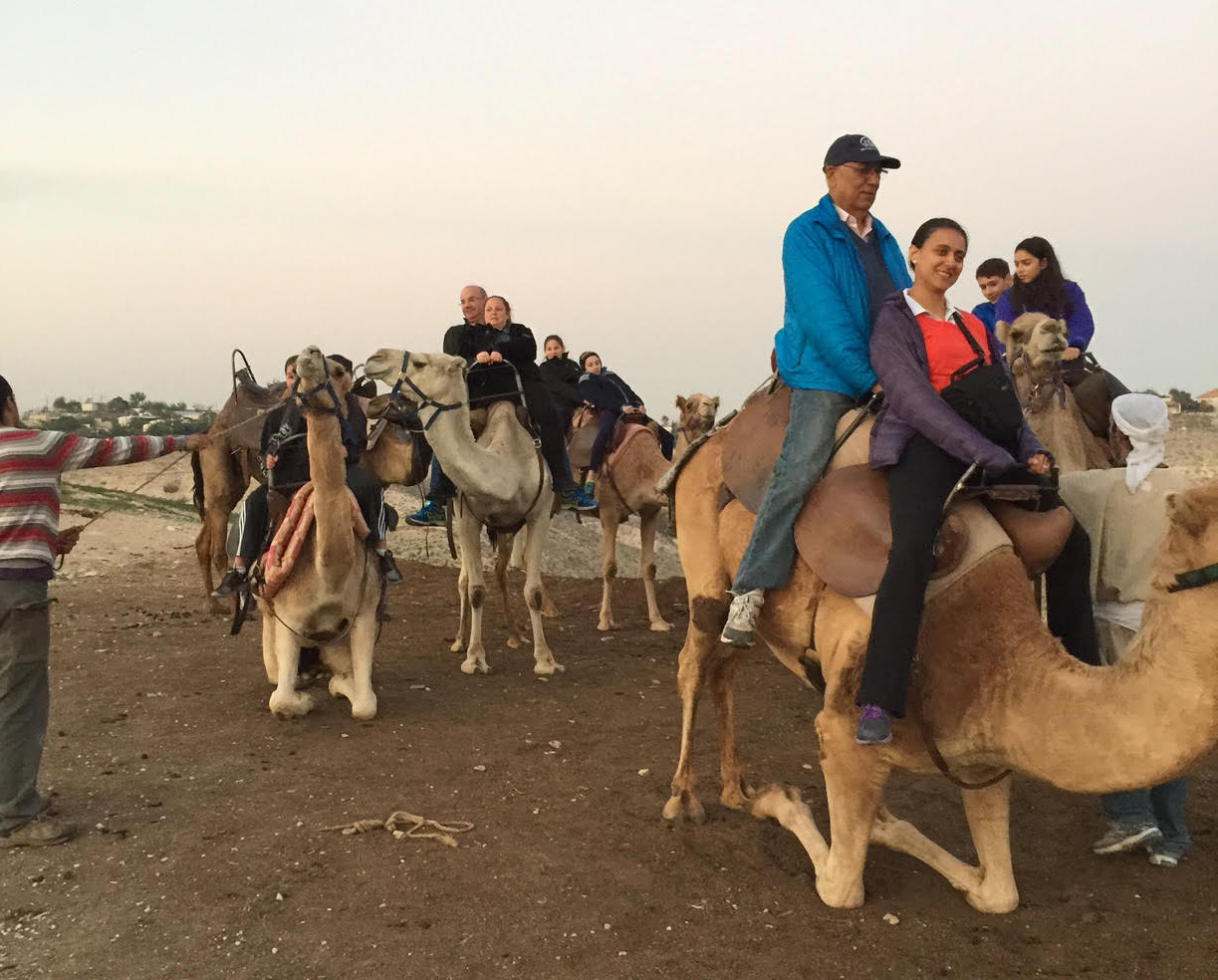 We started our adventure riding camels but some people walked.

There were issues when one camel wanted to be close to another, but the riders didn't like it. The camel, which we named Alfred, didn't want to sit down, so that we could get off. Getting off the camels, we were told to pray! Then we were greeted by the Australian Abraham and given a feast of delicious foods and lemonade. We encountered a fox on the way to the bathrooms, and there were cats everywhere — much to some people's disliking. The kids were given camel-riding licenses in the gift shop, and people talked about the baby camel, which was extremely adorable. All in all, Genesis Land was a big success.
— The Sorkins
---
Ein Gedi
is an area in which David came to hide after King Saul kicked him out of his kingdom.
At Ein Gedi, David hid in a cave. When King Saul came to look for him, he had to go to the bathroom. He happened to go in the cave where David was. David then cut of a piece of King Saul's cloak. Then he came out and said, "Look, I didn't kill you even though I could have. I am the better man."
At Ein Gedi there is a beautiful water fall and lots of caves. There are animals there such as an ibex and some snakes.
— Sydney Zgodyny
« Back to Family Trip to Israel
Click on the thumbnails below to see larger images.
NOTE: You must be logged in to post a comment. Log in now »
Back to Blog