---
Day 2: December 24, 2014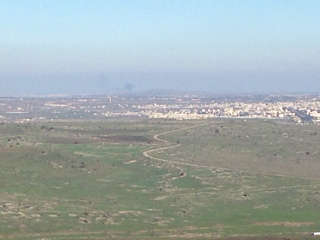 After a hearty buffet breakfast,
we left our hotel in Haifa for a morning visit to
Tzfat,
a hilltop town in the north made famous by the Jewish mystics (Ha'Ari). We visited the
Caro Synagogue,
where the Genizah contains books dating back hundreds of years. We then walked the stone-paved streets where the group broke apart to visit galleries and craftsmen. A stop at the candleshop was followed by street crepes.
From Tzfat we travelled to
Mount Bental,
at the edge of the Golan Heights. From there we could see smoke and hear gunfire coming from
New Quneitra
in Syria.
Then, we drove to
Kibbutz Ein Zivan,
where we toured the
De Karina
chocolate factory, which included a tasting and chocolate making. From there we went to an olive oil factory where they produce both oil and cosmetic products.
The day concluded at a restaurant in the far north where we hosted several members of the IDF. We sat with with a young woman who serves as a medic and plans to go to medical school after completing her two years of service. She told us about treating injured Syrians who get to the border seeking medical treatment.
After such an active day there was no issue falling asleep.
« Back to Family Trip to Israel
Click on the thumbnails below to see larger images.
NOTE: You must be logged in to post a comment. Log in now »
Back to Blog