---
Day 8: December 31, 2012 — Masada and the Dead Sea
by The Cramer-Zucker Family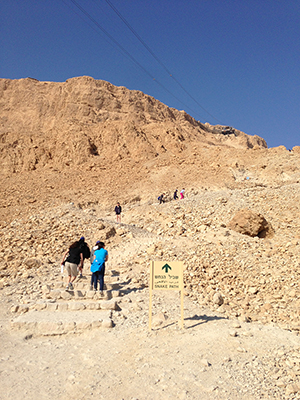 WE ALL AWOKE
to another beautiful weather day for celebrating in Israel. Although we started the day in Jerusalem, we immediately set off for
Masada
and
En Gedi
where the group split roughly in half. Our division embarked on a hike up the snake path route to the top of Masada. Although every climb up Masada is special, there was a unique significance for the Cramer/Shorrock families in that we were led by Rabbi Zeidman and our
b'nei mitzvah
— Will and Evan. Alex, followed by Robert and Eli, led the physical climb, but Will and Evan were responsible for ensuring that Rabbi Zeidman actually made it to the ceremony on time and in one piece.
Although we chose to come to Masada months ago, it was amazing to be present and celebrating such a wonderful family event in a location possibly dating back to the Hasmoneans prior to 100 B.C.E. Herod chose the mountain as his fortress refuge, but after his death and Rome's annexation of Judea, the Romans took over the town until 66 C.E. when a Jewish revolt took it back. In fact, by 70 C.E., it was the last remaining Jewish stronghold in Judea. Eight thousand Romans spent years in full-out siege, and in 74 C.E., Masada was destined to fall.
Eleazar ben Yair
persuaded the almost 1,000 residents to take their own lives rather than be enslaved by the Romans. It was a last act of rebellion and defiance in the final fight for Judea that demonstrated the ultimate resolve of the Jews. Having a service together almost two millennia later and seeing our kids chanting from the Torah demonstrates the value of that resolve and the fruits of traditions and dedication handed down through generations that cannot be suppressed.
The moving morning was followed by lunch at the foot of the mountain and a trip to the
Dead Sea
. It was amazing how quickly this "somewhat civilized" group took to rolling in the mud. If we're lucky, there won't be a lot of photo evidence because it wasn't pretty! After showering off, we proceeded on the very, very long hike to the Dead Sea, which evidently has receded almost a mile from the
En Gedi Spa
(not so aptly named!). Several among us tested our floating skills in the incredibly salty water as the lifeguard scolded us to stay in the shallow area but to no avail.
Two hours later, muddied, salted, sulphured, washed and scrubbed, we climbed back on the bus to begin our New Year's Eve celebration: a sound and light show above the Tower of David followed by individual family dinners around Jerusalem. Another full and fabulous day in Israel.…
Mazel tov to Evan and Will and warm thanks to Rabbi Zeidman (whose immense spirituality — rivaled only by his hiking skills — shone through in every moment), Saul (whose musical gifts enhanced the already magical setting) and Gila (without whom we never could fully appreciate the history and significance of all that we are seeing) for helping to make the day so special.
Click on the thumbnails below to see larger images.
NOTE: You must be logged in to post a comment. Log in now »
Back to Blog