---
Day 10: January 2, 2013 — A Fond Farewell
by The Zgodny Family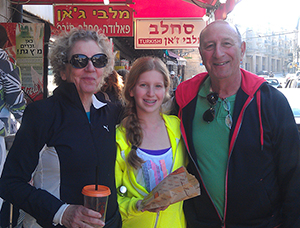 AS THE LAST DAY
of our trip enfolds, we are on Route 1 from Jerusalem to Tel Aviv. We are excited to experience
Mayor Dizengoff's home
, which became the
Israel Hall of Independence
. We arrived to see a short film recounting the pain and struggle for the State of Israel. Entering the auditorium, we are transported back in time to 1948, and we can envision what it must have been like to hear Ben Gurion give his impassioned speech proclaiming the State of Israel. Singing "HaTikvah" with music was inspirational.
We continue down Rothschild Boulevard and observe the Bauhaus architecture, the Mann Auditorium, the theatre district and
Rabin Square Memorial
, where the assassination occurred.
We continued to northern Tel Aviv, and crossing the Hayarkon River, we arrive at the
Palmach Museum
. This is a remarkable "virtual experience" that brings "to life" what it was like to be a young person fighting for survival in the early life of Israel. These young men and women first were trained by the British and subsequently became the "freedom fighters" of the State of Israel.
Many lives were lost in this heroic battle, artistically depicted by
Ludwig Blum
, who lost his son in the mission to blow all border bridges. His gallery can be found in the lobby. His exhibit is beautiful.
We arrive in Jaffa for lunch and to "poke and meander" around the shops and flea markets, to have a taste at
Abulafia Bakery
...world renown with lines beyond.
We hop on the bus back to Jerusalem, to pack, and share with all our "farewell dinner."
We had Benny, our driver, do our last run to the farewell dinner at Zion Ha Gadol in Talpiyot. Lauren made a toast, as did Jordan and Evan. A good time was had by all. Now, slowly, everyone is leaving for his or her respective flights.
L'shanah habaah birushalayim!
Next year in Jerusalem!
Click on the thumbnails below to see larger images.
NOTE: You must be logged in to post a comment. Log in now »
Back to Blog