---
Day 9: January 1, 2013 — Mitzvot and Schwarma
by Susan Zucker (Part I) and Rabbi Ben Zeidman (Part II)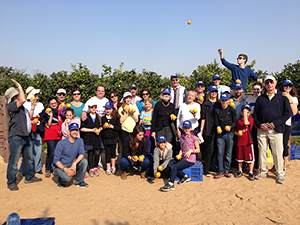 HAPPY NEW YEAR!
Israelis seemed to be out celebrating last night at midnight, even though they don't observe it as a holiday. They were having fun.
Up and out late today! 8:45am!! We took an hour's bus ride near
Rehovot
to work on our mitzvah project with
Leket Israel
. In Leviticus we read that you reap a harvest but not until it is bare; leave some for the poor. (This is called
Leket
). We picked oranges off many trees — enough to feed 700 people! Leket Israel feeds everyone who is needy and lives within Israel's borders. We loved helping! Afterwards we went for lunch at a shopping center near Benny's home. (Benny has been our driver.) There Rabbi Zeidman sat down for the great schwarma-eating contest against two of our students.
PART II
Rabbi Zeidman took on two of our students in a schwarma-eating contest. He insists that he was the winner, but it is possible that our 10-year-old contestant won when measuring the amount of schwarma based on contestant size and weight. Our 14-year-old contestant definitely won the messiest eater prize. It was a filling lunch but very fun.
After lunch we proceeded to an archaeological dig at
Beit Guvrin
. We helped to dig out caves from the
Hasmonean
period, specifically used between 169 B.C.E. and 112 B.C.E. We found a lot if pottery, but the major finds were two coins! We helped find a lot of great stuff and helped removed a significant amount of dirt. Afterwards we formed a chain and got the dirt out if the cave (not as easy as it sounds).
For the more adventurous of us, we then went through an unexcavated cave. We had to crawl and wiggle our way through tight spaces, and the whole thing was lit only by candlelight. We then met up with the others and went with our guide to see an olive press in an excavated cave. It was used around 130 B.C.E.
It was a day of dirt and mud — a day of setting our hands to truly ancient tasks.
Click on the thumbnails below to see larger images.
NOTE: You must be logged in to post a comment. Log in now »
Back to Blog