---
Day 7: December 30, 2012 — The Western Wall and Kotel Tunnels
by The Cravetz-Katz Family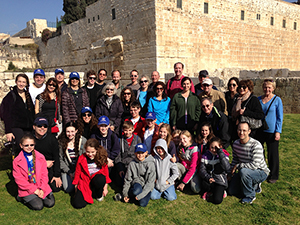 TODAY WE STARTED OUT
the day by going to the
Western Wall
. Everyone put a prayer in, and then we continued on to a tour of the tunnels beneath the wall. They were created when Muslims built houses on large arches. These arches buried most of the wall. Today, we only see 1/8th of it.
In the
Kotel tunnels
, we saw the foundation stones of the wall, and we got as close as 300 feet to the Holy Rock. We then continued on to the southern wall excavations and learned there about the ancient Jerusalem Temple at the Davidson Center. We ascended the steps that once led to the Temple. We said prayers and explained why Judaism is important to us. It was a moving experience.
By then it was lunchtime, so we explored the
Jewish Quarter
. Our family got falafel and schwarma. It was delicious! We then continued on to the market and looked at the beautiful
kippot
and
tallit
.
After lunch and the market, we toured
David's City
, the most ancient section of Jerusalem built by King David. We toured the actual tunnel through which David entered the city! We then traveled to the streets that pilgrims walked on in ancient times.
Finally we returned to the hotel, and parents took the night off. The kids went out with Saul Kaiserman and Rabbi Zeidman for pizza, ice cream and a photo scavenger hunt on Ben Yehuda Street.
It was a great day filled with history, Judaism and fun.
Click on the thumbnails below to see larger images.
NOTE: You must be logged in to post a comment. Log in now »
Back to Blog