---
Day 4: December 27, 2012 — The Negev Desert
by Sophie and Robyn L.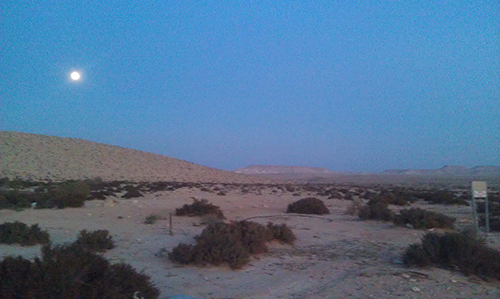 TODAY WAS ANOTHER
great day in Israel. The schedule was filled with diverse activities in the Negev. Part of the group hiked into the
Ramon Crater
, and the rest traveled up to the
Israeli Air Force Museum
. At the museum, a guide led us through the history of the Israeli Air Force's airplanes and helicopters. We even climbed in some of the earliest planes. We sat and watched a film in the Boeing airplane that was the hospital plane in the raid on
Entebbe
, where more than 100 Israeli citizens and other Jews were rescued in Uganda in the 1970s.
After the museum, we visited
David and Paula Ben Gurion's graves
, and the views of the Negev landscape were outstanding. We learned about
Ben Gurion's life
: He was the first prime minister of Israel. In the afternoon we went to a desert archery range were we learned and practiced our archery skills and popped balloon targets.
Finally, we ended the day with a beautiful sunset camel ride. The ride was bumpy and very fun. We ended our evening with a delicious dinner in a Bedouin tent. We sat on the floor and enjoyed our meal together.
We are excited for tomorrow...on to Jerusalem!
Click on the thumbnails below to see larger images.
NOTE: You must be logged in to post a comment. Log in now »
Back to Blog