---
Day 3: December 26, 2012 — The Jordan River Valley
by The Goldfischer Family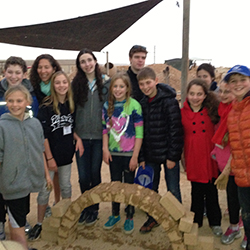 TODAY, AFTER A DELICIOUS
Israeli buffet breakfast, we said goodbye to Kibbutz Lavi and took a scenic drive south to the
Sea of Galilee
, passing banana trees, date palms and beautiful vistas.
Our first stop was
Kvutzat Degania
, where we stopped at the
Galita Chocolate Farm
. At our visit to the workshop, each of us filled truffle shells with praline nougat then dipped the creations into white or milk chocolate. Before the truffles dried, we had opportunities to decorate the tops with sprinkles and other fun candy toppings. Some people remarked that they found a new career as a chocolatier. Everyone seemed to have a blast, especially those who "tested" as they created.
While our chocolates were cooling, we saw a movie about the process of making chocolate, including everything from the harvesting of the beans in Africa to their final processing at the greatest candy factories around the world.
We continued our long drive south to the
Negev Desert
, stopping at a shopping plaza where we found an extensive food court with lots of tasty options for lunch. Most people opted for falafel or schwarma sandwiches.
Late on this chilly afternoon, we arrived at the
Ramon Crater
, where the owners of Israel's only brick-making factory greeted us with hot tea, cookies and a warm fire. We learned about the history of the crater and how it is ecologically friendly to build homes out of mud bricks. We then participated in a mud-brick construction workshop, where we made the mortar out of sand, clay and water. We even had the opportunity to build an arch out of bricks and mortar. We stood in awe as the arch held shape within minutes of creation.
Dinner was a huge buffet at our hotel in the desert,
which was a nice ending to a long day.
Click on the thumbnails below to see larger images.
NOTE: You must be logged in to post a comment. Log in now »
Back to Blog