---
Each issue of our Temple Emanu-El Bulletin features a commentary written by a member of our clergy or senior staff based on important themes in our lives. We invite you to become a part of the dialogue by posting your thoughts on the issues being discussed. Check back each month for a new entry.

Two Pockets: Spiritual Preparation for the Days of Awe (Vol. 88, No. 1)
By Rabbi Joshua M. Davidson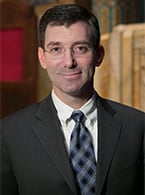 Rabbi Simcha Bunam taught
we should carry with us two statements: one from Genesis,
V'anochi afar va'eifer,
"I am but dust and ashes" (Genesis 18:27); and the other from
Mishnah Sanhedrin, Bishvili nivra ha'olam,
"For my sake the world was created."[1] One goes in our left pocket to impress upon us our smallness; the other in our right pocket to remind us of our greatness. This tension "between vulnerability and action,"[2] as Rabbi Milton Steinberg called it, confronts us throughout the High Holy Days.
"I Am But Dust and Ashes"
One
Kol Nidrei
Eve, a rabbi decides to model repentance for his congregation. Humbly he approaches the ark. Beseeching the Almighty for forgiveness, he beats his breast, proclaiming, "Before You, God, I am nothing. I am nothing." The cantor sees him and joins in. "I am nothing. I am nothing," she cries. The temple president, sensing that he too must get in on the act, now comes up. "I am nothing. I am nothing," he sobs. In the silence that follows, the rabbi turns to the cantor and whispers, "Look who thinks he's nothing."
Read More…
Tuesday September 1st |
Post a comment/View comments »
(0 comments)