---
Temple Emanu-El's Torah commentaries are prepared by members of our clergy, senior staff, Religious School faculty and Saturday morning Torah Study group. Blog comments are moderated. Please note that we reserve the right to delete comments that are deemed inappropriate, use offensive language, promote personal attacks or are self-serving (promote goods and services). At the same time, we hope that this blog will promote thoughtful dialogue and continued learning. If you are a temple member interested in joining our team of writers, contact Prince Davis.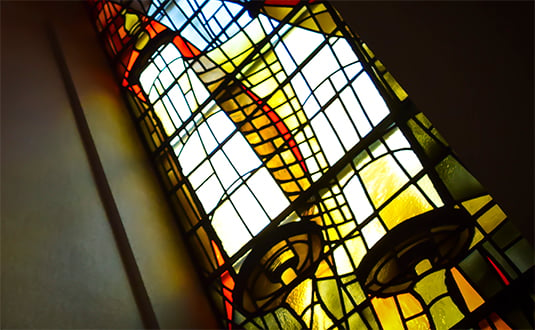 Parashat Vayeira (October 31, 2015)
By Rabbinic Intern Stephanie Crawley
PARASHAT VAYEIRA picks up right in the middle of the story of the lives of Abraham and Sarah. However, this couple is not middle age. Sarah is 90 years old, Abraham is 100, and they are childless. But their lives change suddenly, when three mysterious strangers arrive at their tent, and the couple graciously and enthusiastically welcomes them in with food and a place to rest underneath a tree. With Sarah presumably out of earshot, the three strangers inform Abraham that his wife will bear a son within the next year. This is not radical news to Abraham, as God already has assured him that Sarah would give birth to a son, ensuring the fulfillment of God's covenant with Abraham.
Continue reading Stephanie's commentary »
Post a comment/View comments »
(0 comments)
Parashat Lech L'cha (October 24, 2015)
By Erika Resnick
"AND GOD SAID TO ABRAM, 'GO TAKE A WALK…'"
It seems a bit odd that this quotation from this week's Torah portion should come right at the very pinnacle of the Major League baseball playoffs, "Go take a walk…" But perhaps God was onto a very important concept, for Abram, later Abraham, and for us.
Continue reading Erika's commentary »
Post a comment/View comments »
(0 comments)
Parashat Noach (October 17, 2015)
By Cara L. Glickman
PARASHAT NOACH
IS A FAMILIAR STORY. When my grandfather retired from working in the insurance business, he took up carpentry as a hobby. For one of his projects, he built an ark for each pair of grandchildren from his three children, and these arks are a wooden treasure that his great-grandchildren enjoy to this day. From our youngest years, the animals going two by two into the ark, the flooding of the earth and the dove returning with an olive branch, is a wonderful tale we read in picture books or played with using figurines.
Continue reading Cara's commentary »
Post a comment/View comments »
(0 comments)
Parashat B'reishit (October 10, 2015)
By Saul Kaiserman
AS BEFITS THE INSCRUTABLE STORY OF CREATION, occurring beyond the limits of our scientific research and historic knowledge, the very first word of the Torah contains within it a mystery. Although the traditional English translation is "In the beginning," it more accurately should be translated as "In a beginning" — in one beginning, among other beginnings. This is a significant difference. If it is "a" beginning, then that implies that God created other worlds besides our own!
Continue reading Saul's commentary »
Post a comment/View comments »
(1 comments)
Chol HaMo-eid Sukkot (October 3, 2015)
By Rabbi David M. Posner
The Book of Leviticus (23:40) speaks of four kinds of species — arbaah minim — to be used in the observance of the festival of Sukkot. They are known collectively as the lulav and are used on the first seven days of the holiday, with the exception of Shabbat. The four species are the etrog (citron fruit), lulav (branches of palm tree), hadasim (branches of three-leaved myrtle) and aravah (willows of the brook).
Continue reading Rabbi Posner's commentary >>
Post a comment/View comments »
(0 comments)