---
Temple Emanu-El's Torah commentaries are prepared by members of our clergy, senior staff, Religious School faculty and Saturday morning Torah Study group. Blog comments are moderated. Please note that we reserve the right to delete comments that are deemed inappropriate, use offensive language, promote personal attacks or are self-serving (promote goods and services). At the same time, we hope that this blog will promote thoughtful dialogue and continued learning. If you are a temple member interested in joining our team of writers, contact Prince Davis.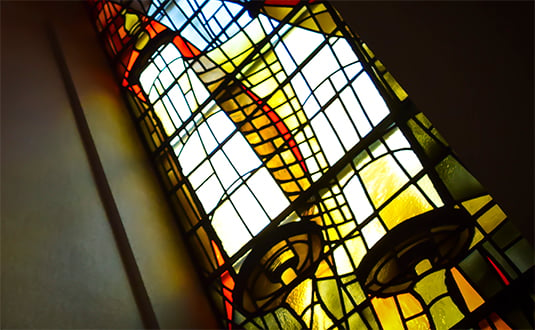 Parashat Sh'mot (January 2, 2016)
By Saul Kaiserman
THE SECOND BOOK OF THE TORAH is known in English as "Exodus," which is Greek for "exit," for it tells the story of our people's liberation from slavery in Egypt. In Hebrew, however, the book and its first portion are called
Sh'mot
or "Names." In this portion we learn the names of many figures, from Moses, Miriam and Aaron, to Moses' wife, Zipporah, and his father-in-law, Jethro, to the heroic midwives Shifrah and Puah. Others remain anonymous, such as Pharaoh and his daughter, who rescues Moses from the Nile River. It is in this week's portion as well, that the Bible in a manner most mysterious explains what we should call God.
Continue reading Saul's commentary »
Post a comment/View comments »
(0 comments)
Parashat Va-y'chi (December 26, 2015)
By Warren Klein
IN THIS WEEK'S PORTION, we come to the end of the book of Genesis where Jacob is on his deathbed. He is reunited with his son Joseph and meets for the first time his grandchildren, Ephraim and Manasseh. Jacob then assembles his 12 sons together and speaks to each one individually, naming their strengths and speaking of their character. Jacob then gives instructions as to where he is to be buried.
Continue reading Warren's commentary »
Post a comment/View comments »
(1 comments)
Parashat Vayigash (December 19, 2015)
By Rabbi Allison Tick Brill
IN MY FIRST SIX MONTHS AT TEMPLE EMANU-EL, I have seen countless ways that our congregation brings Jewish values to life. One of the most striking examples takes place once a month on Sunday mornings, when the student council of our Religious School meets. For more than 100 years, children in the Religious School have been empowered to determine which organizations receive the school's
tzedakah
collection. Starting in fourth grade, children can join the student council, where they learn to represent their classmates and consider which qualities make an organization worthy of support. This past month, the student council voted to respond to the global refugee crisis. They felt a religious obligation to help people find shelter and peace, and so they selected the
International Rescue Committee
as our
tzedakah
recipient. For the next several months, the money collected in Religious School will provide sustenance and care for refugee families in crisis.
Continue reading Rabbi Tick Brill's commentary »
Post a comment/View comments »
(1 comments)
Parashat Mikeitz (December 12, 2015)
By Missy Bell
THIS WEEK'S PARASHAH,
Mikeitz,
continues the story of Joseph. Joseph is still in prison in Egypt. However, he soon is released because Pharaoh has two dreams that no one is able to interpret until the butler, remembering the time Joseph interpreted his dream in prison, tells Pharaoh about Joseph. Joseph is able to interpret Pharaoh's dreams, although he gives the credit to God. Joseph tells Pharaoh that his dream of the seven fat cows and seven good ears of corn means that there will be seven years of plenty in the land. The dream of seven lean cattle and seven thin ears of corn means that seven years of famine will follow. Pharaoh rewards Joseph for this interpretation, giving him a wife and putting him in a position of power — supervising the storage of grain during the seven years of plenty and the distribution of the grain during the famine.
Continue reading Missy's commentary »
Post a comment/View comments »
(1 comments)
Parashat Vayeishev (December 5, 2015)
By Sherry Nehmer
ONCE AGAIN, this week's
parashah
contains a story where, although the main character is male, two women have their brief moments in the sun. As in
Parashat Pinchas,
we have one woman who flaunts her sexuality for no good purpose, but also, unlike the five sisters in
Pinchas
who demand their rights to own land, here we have one very bold woman who uses sex to achieve a point of Hebrew law.
Continue reading Sherry's commentary >>
Post a comment/View comments »
(1 comments)