---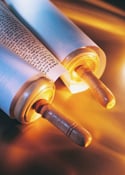 Temple Emanu-El's weekly Torah commentary is prepared by members of our clergy, senior staff, Religious School faculty and Saturday morning Torah Study group. An electronic version can be sent to your email inbox each Monday morning by subscribing to our electronic mailing list. Blog comments will be moderated. Please note that we reserve the right to delete comments that are deemed inappropriate, use offensive language, promote personal attacks or are self-serving (promote goods and services). At the same time, we hope that this blog will promote thoughtful dialogue and continued learning.

Parashat B'reishit (October 29, 2016)
By Prince H. Davis
I HAD AN INTERESTING CONVERSATION with a colleague the other day about organically grown vegetables and non-GMO products. It reminded me of a book I read long ago, titled The Unsettling of America by Wendell Berry. In his book, Berry discusses how large food-producing corporations have begun to monopolize the industry using genetically modified produce, putting out of business many of the small farms that grow their produce naturally. Many people are alarmed by this, and the market for naturally grown foods has increased in many places. I wanted to see what the Torah had to say.
Continue reading Prince's commentary »
Sunday October 23rd |
Post a comment/View comments »
(1 comments)
Chol HaMo-eid Sukkot (October 22, 2016)
WHEN THE SIN OF IDOLATRY IS NAMED IN THE TEN COMMANDMENTS, the language used is, "You shall not make for yourself a
fesel
, a graven image." This command is reiterated at the end of this week's
parashah, Ki Tisa,
after the Israelites have indeed built and worshiped an idol, igniting God's fury. However, this time, the language has changed to, "You shall not make for yourself
elohei masecha
— molten gods."
Continue reading this week's commentary »
Sunday October 16th |
Post a comment/View comments »
(0 comments)
Parashat Haazinu (October 15, 2016)
By Robyn Weinstein Cimbol
HAAZINU
IS THE final recapitulation of the covenantal relationship between Israel and God. It contains the
Farewell Song of Moses
, which "bookends" the career of Moses that began at the Red Sea with the lyrical
Song of the Sea/Shirat HaYam
(Exodus 15). Unlike
Song of the Sea
, which is celebratory in nature and triumphant in spirit, the
Farewell Song
is rather violent and disappointing. It is in fact an indictment of the Israelites' failure to uphold their side of the covenant. Sadly, it gives a rather bleak projection for the future.
Continue reading Robyn's commentary »
Sunday October 9th |
Post a comment/View comments »
(0 comments)
Parashat Vayeilech (October 8, 2016)
By Sherry Nehmer
VAYEILECH,
ONE OF THE CONCLUDING CHAPTERS of the Book of Deuteronomy, contains a poignant portrait of Moses as he faces his mortality with the knowledge that he never will cross with his people into the Promised Land. Rather than lament with bitterness about the unfairness of the situation, what Moses does with the knowledge is to forge a powerful link in the unbroken chain binding Jews from generation to generation.
Continue reading Sherry's commentary >>
Sunday October 2nd |
Post a comment/View comments »
(0 comments)
Nitzavim (October 1, 2016)
By Jessica Ingram
I STILL CAN REMEMBER, so vividly, the first time I truly heard this Torah portion,
Nitzavim.
We learn that we read the Torah week after week, year after year, because each time we read it we are at a different place within ourselves, and a different context surrounds us. I'm sure many of us know and accept this in a theoretical or intellectual way, but I hope that many of us also have experienced such a moment of personal revelation — a deep, meaningful connection to Torah, when it startles us with its poignant relevance to our lives.
Continue reading Jessica's commentary »
Sunday September 25th |
Post a comment/View comments »
(1 comments)