---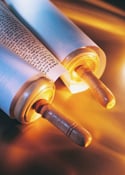 Temple Emanu-El's weekly Torah commentary is prepared by members of our clergy and senior staff. An electronic version can be sent to your e-mail inbox each Monday morning by subscribing to our electronic mailing list. Blog comments will be moderated. Please note that we reserve the right to delete comments that are deemed inappropriate, use offensive language, promote personal attacks or are self-serving (promote goods and services). At the same time, we hope that this blog will promote thoughtful dialogue and continued learning.

Parashat R'eih (August 23, 2014)
By Rabbi Rena Y. Rifkin
TIME TRUDGES ON and even the biggest moments in our lives become small memories. It's hard to remember all of the details and the feelings of those moments. We grow and change, and we move on. And as much as we want to hold those important moments in our consciousness every day, it is nearly impossible to do so.
Continue reading Rena's commentary »
Sunday August 17th |
Post a comment/View comments »
(1 comments)
Parashat Eikev (August 16, 2014)
By Bettijane Eisenpreis
NEVER PROMISE ANYTHING, whether it is an ice cream cone or a spanking, if you are not sure you can deliver it," my father, Clinton Long, said frequently. I learned early in life not to ask him to promise me a ride in the country or a day at the beach, even if I were a very good girl. The best I could get was a "We'll see."
Continue reading Bettijane's commentary »
Sunday August 10th |
Post a comment/View comments »
(1 comments)
Parashat Va-et'chanan (August 9, 2014)
By Dr. Frederick S. Roden
IT'S HARD TO FORGET
VA-ET'CHANAN,
considering that here we find not only the
Sh'ma
and
V'ahavta
(Deuteronomy 6:4-9) but also a recitation of the Ten Commandments (Deuteronomy 5:6-18).
Va-et'chanan
concerns the dangers of forgetting. We see the fullest realization of the sacred calling of the person of Moses: as teacher. This portion is preoccupied with futurity, the reality that the community will outlive Moses' spiritual leadership. Moses, who wrestled with his vocation from the beginning (who was he to play an exalted role?), finally has become it so entirely that he must release it. In
Va-et'chanan
Moses names what must be remembered when he is no more. This is the secret to every great teacher: avoiding the idolatry that we are so necessary that our students cannot survive our departure. It is an affirmation of
l'dor v'dor
, from generation to generation, the confirmation of continuity in the face of our own mortality and the awareness that change can result in growth. The "mission of Israel" is bigger than Moses' personality; he must step back, be prepared to let another lead. If he were to cling to the idolatry of self, Moses would devolve into a guru. Even so, in letting go, Moses must crystallize the essence of the message he's been called to witness: the Oneness of a God of love.
Continue reading Dr. Roden's commentary »
Sunday August 3rd |
Post a comment/View comments »
(0 comments)
Parashat D'varim (August 2, 2014)
By Max Moss
UNLIKE THE PRECEDING BOOKS of the Bible, which were dictated directly by God,
D'varim
("Words") represents a revelation that Moses phrased in his own words. This might appear to be a disadvantage, for the words of God would be superior to any mortal's. Still, it reached a high level of compatibility with the human mind.
Continue reading Max's commentary »
Sunday July 27th |
Post a comment/View comments »
(0 comments)
Parashat Mas'ei (July 26, 2014)
By Elizabeth F. Stabler