---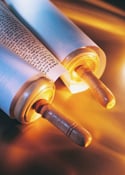 Temple Emanu-El's weekly Torah commentary is prepared by members of our clergy and senior staff. An electronic version can be sent to your e-mail inbox each Monday morning by subscribing to our electronic mailing list. Blog comments will be moderated. Please note that we reserve the right to delete comments that are deemed inappropriate, use offensive language, promote personal attacks or are self-serving (promote goods and services). At the same time, we hope that this blog will promote thoughtful dialogue and continued learning.

Parashat Tazria-M'tzora (April 25, 2015)
By Rabbi Rena Y. Rifkin
TAZRIA-M'TZORA,
our double Torah portion for the week, discusses the body. We are told of skin diseases, discharges and menstruation. These are real-life physical conditions that often make us uncomfortable and rarely make us think of the holy or divine. These bodily fluids are not about what we expect Judaism to advise us. This is the nitty-gritty — not the lofty, highly philosophical and values-driven Judaism.
Continue reading Rena's commentary »
Sunday April 19th |
Post a comment/View comments »
(0 comments)
Parashat Sh'mini (April 11 and 18, 2015)
By Elizabeth F. Stabler
THE DEATH OF AARON'S SONS and successors, Nadab and Abihu, is the riveting incident in
Parashat Sh'mini
. For millennia it has been discussed and disputed by Torah scholars and readers. This is a powerful story about two young priests who decide to burn "alien fire" instead of their usual coals and instantly are killed by a fire from God. It is tempting to dwell on their deaths rather than to delve into their meaning and consequences.
Continue reading Liza's commentary »
Sunday April 5th |
Post a comment/View comments »
(0 comments)
Passover (April 4, 2015)
By Cara L. Glickman
THIS WEEK WE CELEBRATE Passover on Shabbat, and we will read the Torah Portion marking Passover. The portion reminds us that the Israelites left Egypt quickly. Their bread never rose because of the rush, creating the matzah we traditionally eat during the Passover holiday today. The group left Egypt and traveled in the desert for more than 40 years. This was enough time for the former slaves to become free people in body and in spirit.
Continue reading Cara's commentary »
Sunday March 29th |
Post a comment/View comments »
(0 comments)
Parashat Tzav (March 28, 2015)
By Rabbi Benjamin J. Zeidman
IT IS NOT MERE COINCIDENCE that we read
Tzav
this time of the year. We've turned our clocks forward, and Passover is just around the corner. We read this week: "The priest shall dress in linen raiment with linen breeches next to his body; and he shall take up the ashes to which the fire has reduced the burnt offering on the altar and place them beside the altar." (Leviticus 6:3) It's time for spring cleaning!
Continue reading Rabbi Zeidman's commentary »
Sunday March 22nd |
Post a comment/View comments »
(1 comments)
Parashat Vayikra (March 21, 2015)
By Jennifer Knobe
THE BOOK OF
VAYIKRA
MEANS, "And He called."
Vayikra
is the first Hebrew word of the book, which begins by saying, "And the LORD called to Moses and spoke to him from inside the tent of meeting." (Leviticus 1:1) The Book of Leviticus focuses on the ritual in the
Mishkan
, the Tabernacle in the desert. By the end of the previous book, the Book of Exodus, the Tabernacle is completed and filled with the divine presence of God. The central ritual that takes place within the Tabernacle, the regular offering of sacrifices, is now the first order of business.
Continue reading Jennifer's commentary »
Sunday March 15th |
Post a comment/View comments »
(0 comments)