---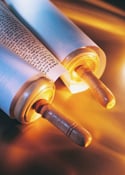 Temple Emanu-El's weekly Torah commentary is prepared by members of our clergy and senior staff. An electronic version can be sent to your e-mail inbox each Monday morning by subscribing to our electronic mailing list. Blog comments will be moderated. Please note that we reserve the right to delete comments that are deemed inappropriate, use offensive language, promote personal attacks or are self-serving (promote goods and services). At the same time, we hope that this blog will promote thoughtful dialogue and continued learning.

Chol HaMo-eid Pesach (April 19, 2014)
By Cantor Lori Corrsin
SHIR HaSHIRIM
: the Song of Songs, the Sublime Song, the First of All Songs, The Song, is a sacred scroll, a Megillah, part of the Jewish canon. Its eight chapters of love poetry, thought to be from around the fourth century B.C.E., are set in an idealized, abundant landscape — a kind of Eden. The poetry is full of passionate, rich images. Certain words leap out from our texts: flowers and singing birds, sweet fragrances, fine oil, roses and lilies, fierce love, bitter jealousy, eyes like doves, gardens and beds of spices, and kisses like an intoxicating wine.
Continue reading Cantor Corrsin's commentary »
Sunday April 13th |
Post a comment/View comments »
(0 comments)
Parashat Acharei Mot (April 12, 2014)
By Robyn Weinstein Cimbol
WHY DOES THIS WEEK'S Torah portion begin by reminding us that it follows "after the death of Aaron's sons," and why does it end with a warning to avoid being seduced into the abhorrent behavior of the neighboring Egyptians and native Canaanites?
Continue reading Robyn's commentary »
Sunday April 6th |
Post a comment/View comments »
(0 comments)
Parashat M'tzora (April 5, 2014)
By Rabbi Amy B. Ehrlich
WITH 7 INCHES OF SNOW having fallen overnight and dawn a few hours away, parents and children (alike) wait for the Mayor's announcement. Would the coming day be a "snow day"? Before the official pronouncement, there is always endless speculation. Yes, there is snow… but is there "enough" snow to make it worthwhile? Ask any child and his or her opinion always favors a day of sledding fun. Parents who have to juggle work and childcare aren't as easily convinced. But no matter what either party thinks, the day isn't "called" until the Mayor declares it so!
Continue reading Rabbi Ehrlich's commentary »
Tuesday April 1st |
Post a comment/View comments »
(0 comments)
Parashat Tazria (March 29, 2014)
By Rachel Dulitz
THE BOOK OF LEVITICUS could be succinctly summarized as, "a guide to holy relationships with God." There are rules pertaining to the holiness and purity required in food consumption, sexual practices, and the offering of sacrifices in the Temple. We read about the consecration of Aaron and his sons as priests and the laws of the high priest entering the Holy of Holies on Yom Kippur.
In this week's Torah portion,
Tazria
, we read about
tzaraat
, which can appear on a person's body, clothes, and even in their homes.
Continue reading Rachel's commentary »
Sunday March 23rd |
Post a comment/View comments »
(0 comments)
Parashat Sh'mini (March 22, 2014)
By Missy Bell
THIS WEEK'S TORAH PORTION,
Sh'mini
, begins by continuing to explain the different types of sacrifices the Israelites need to make, including sin offerings, burnt offerings, peace offerings and meal offerings. The rituals, rules and structure surrounding these types of offerings are explained in depth as Moses and Aaron are taught what to do. The second half of the portion begins to list some of the laws of kashrut — the laws about which animals the Israelite community is permitted to eat, and which animals they may not eat.
Continue reading Missy's commentary »
Sunday March 16th |
Post a comment/View comments »
(0 comments)