---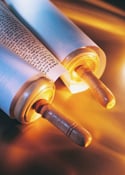 Temple Emanu-El's weekly Torah commentary is prepared by members of our clergy, senior staff, Religious School faculty and Saturday morning Torah Study group. An electronic version can be sent to your email inbox each Monday morning by subscribing to our electronic mailing list. Blog comments will be moderated. Please note that we reserve the right to delete comments that are deemed inappropriate, use offensive language, promote personal attacks or are self-serving (promote goods and services). At the same time, we hope that this blog will promote thoughtful dialogue and continued learning.

Vayishlach (October 31, 2015)
By Rabbinic Intern Stephanie Crawley
PARASHAT VAYISHLACH
IS ONE of our tradition's most dramatic tales of reconciliation, recounting the moment of reunion between the brothers Jacob and Esau.
The first part of their story is one of rivalry, deception and revenge. Even in the womb, Jacob and Esau wrestle, (Genesis 25:22) and their rivalry continues at their birth, when Esau comes out first, followed by Jacob, who is grasping onto Esau's foot. In fact, Jacob's name, Yaakov, is a wordplay on the word
akev
, meaning "heel," and its related verb, which means "to overreach." Jacob, from birth, is trying to "overreach" his brother. (Genesis 25:25-26)
Continue reading Stephanie's commentary »
Sunday November 22nd |
Post a comment/View comments »
(0 comments)
Parashat Vayeitzei (November 21, 2015)
By Bettijane Eisenpreis
JACOB'S VOW IN PARASHAT VAYEITZEI is not the first story in the Torah that features someone bargaining with God. In Genesis 18: 23-32, a famous dialogue happens between Abraham and God in regard to Sodom and Gomorrah. Abraham is distressed that God plans to destroy the cities because of their wicked inhabitants. He begins by getting God to promise that if there are 50 righteous men in the cities, He will spare them. Eventually, Abraham gets the number down to 10, but later we learn that the cities were destroyed because they did not even contain 10 good men.
Continue reading Bettijane's commentary »
Sunday November 15th |
Post a comment/View comments »
(0 comments)
Parashat Tol'dot (September 14, 2015)
By Rachel Brumberg
THIS WEEK'S TORAH PORTION,
Tol'dot,
tells us of the line of Isaac. It includes his marriage to Rebekah; the birth of their twins, Esau and Jacob; and the selling of Esau's birthright to Jacob. It ends with the deception of Isaac when Jacob tricks his father into giving him the blessing meant for the firstborn. In the middle of these life-cycle events we read about a famine. God instructs Isaac not to go to Egypt during this famine but rather to remain in the land that was promised to him as part of God's covenant with Abraham. So Isaac stays there and settles in Gerar so that he can continue to receive God's blessing.
Continue reading Rachel's commentary »
Sunday November 8th |
Post a comment/View comments »
(0 comments)
Chayei Sarah (November 7, 2015)
By Rabbi Allison Tick Brill
A GOOGLE SEARCH FOR "what to look for in a spouse," reveals more than 200 million responses. It seems that everyone has a different opinion about which factors are most important in a partnership. Some say it's all about attraction and timing. Others argue that shared interests and similar values are most important.
Continue reading Rabbi Brill's commentary »
Sunday November 1st |
Post a comment/View comments »
(0 comments)
Vayeira (October 31, 2015)
By Rabbinic Intern Stephanie Crawley
PARASHAT VAYEIRA picks up right in the middle of the story of the lives of Abraham and Sarah. However, this couple is not middle age. Sarah is 90 years old, Abraham is 100, and they are childless. But their lives change suddenly, when three mysterious strangers arrive at their tent, and the couple graciously and enthusiastically welcomes them in with food and a place to rest underneath a tree. With Sarah presumably out of earshot, the three strangers inform Abraham that his wife will bear a son within the next year. This is not radical news to Abraham, as God already has assured him that Sarah would give birth to a son, ensuring the fulfillment of God's covenant with Abraham.
Continue reading Stephanie's commentary »
Sunday October 25th |
Post a comment/View comments »
(0 comments)