---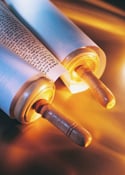 Temple Emanu-El's weekly Torah commentary is prepared by members of our clergy, senior staff, Religious School faculty and Saturday morning Torah Study group. An electronic version can be sent to your email inbox each Monday morning by subscribing to our electronic mailing list. Blog comments will be moderated. Please note that we reserve the right to delete comments that are deemed inappropriate, use offensive language, promote personal attacks or are self-serving (promote goods and services). At the same time, we hope that this blog will promote thoughtful dialogue and continued learning.

Parashat Vayeitzei (December 10, 2016)
By Rachel Brumberg
IN THIS WEEK'S TORAH PORTION,
Parashat Vayeitzei,
we begin with Jacob leaving Beer-Sheva. In his travels, he comes across a well. Surrounding the well are flocks of sheep being watered. Jacob approaches the shepherds and asks them if they know his uncle, Laban, the man he had set off to find. It is while Jacob is standing at the well, speaking to the shepherds, that he first sees Rachel, the daughter of his Uncle Laban, who came to water her father's flock. And the rest, as they say, is history. Family unites; Jacob falls in love with Rachel; Laban makes Jacob work seven years to wed Rachel but then gives him his older daughter Leah instead; Jacob works seven more years to finally marry the younger, prettier daughter that he fell in love with back at the well.
Continue reading Rachel's commentary »
Sunday December 4th |
Post a comment/View comments »
(0 comments)
Parashat Tol'dot (December 3, 2016)
By Robyn Weinstein Cimbol
Parashat Chayei Sarah (November 26, 2016)
By Chaplain Rita Sherman
IT'S CALLED "THE LIFE OF SARAH," but what this portion tells us about Sarah's life is simply its span. What we know about her, about her life, comes from earlier portions, and from our imaginings, including imagining how she might have felt when, at God's command, her husband, Abraham, took their child, Isaac, to be sacrificed — this, the child she had yearned for well beyond the years of fertility, whose prophesied birth had seemed so unlikely, she had laughed bitterly.
Continue reading Rita's commentary »
Sunday November 20th |
Post a comment/View comments »
(1 comments)
Parashat Vayeira (November 19, 2016)
By Cara L. Glickman
Parashat Lech L'cha (November 12, 2016)
By Bettijane Eisenpreis
I AM HAPPY TO REPORT that one of my favorite songs, "Lechi Lach," by Debbie Friedman, now is used in the Friday night service at Temple Emanu-El. Friedman renders in poetry the same sentiments that are quoted above, but she uses both the masculine and feminine forms of the Hebrew verb for "go forth,"
Lechi Lach
(feminine) and
Lech Lekha
(masculine). Is there any reason for this, beyond the fact that it makes beautiful poetry?
Continue reading Bettijane's commentary »
Sunday November 6th |
Post a comment/View comments »
(0 comments)