---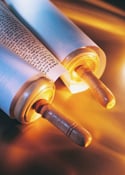 Temple Emanu-El's weekly Torah commentary is prepared by members of our clergy, senior staff, Religious School faculty and Saturday morning Torah Study group. An electronic version can be sent to your email inbox each Monday morning by subscribing to our electronic mailing list. Blog comments will be moderated. Please note that we reserve the right to delete comments that are deemed inappropriate, use offensive language, promote personal attacks or are self-serving (promote goods and services). At the same time, we hope that this blog will promote thoughtful dialogue and continued learning.

Parashat Acharei Mot (April 30 and May 7, 2016)
By Rabbinic Intern Stephanie Crawley
IN A CLASSIC EPISODE OF "THE WEST WING," the press secretary, C.J. Craig, arrives at her office to find two turkeys inside. She is told that she must choose the most photogenic of the pair to receive the annual Thanksgiving "presidential turkey pardon." Burdened by this responsibility, she begs the President to pardon both turkeys: "The more photo-friendly of two gets a full Presidential pardon and a full life at a children's zoo, and the runner up gets eaten?!" The President asserts that he has no
actual
power to pardon the second turkey and instead uses his Constitutional powers to draft it into military service — thereby "saving" its life.
Continue reading Stephanie's commentary »
Sunday April 24th |
Post a comment/View comments »
(0 comments)
Pesach (April 23, 2016)
By Jessica Ingram
Parashat M'tzora (April 16, 2016)
By Warren Klein
THIS WEEK'S
PARASHAH
can be a tough one to get through. It begins with the Lord speaking to Moses about the ritual for the leper, and the often strict and complicated dealings with lepers and bodily discharges always has left me feeling uneasy. Also, from the image of the High Priest sprinkling oil to the slaughtering of goats and birds, I find this
parashah
to feel distant. But then I reread the end of Chapter 14, which deals with the impurity of a physical space, particularly one's home.
Continue reading Warren's commentary »
Sunday April 10th |
Post a comment/View comments »
(0 comments)
Parashat Tazria (April 9, 2016)
By Wendl Kornfeld
AT SATURDAY MORNING TORAH STUDY, we need little encouragement to express our opinions. Nor is humor absent. Our backgrounds range from Torah newbies to scholars of related history and literature. The weekly text is examined through the lens of its own time but perhaps more for its relevance to modern lifestyles and values. We Torah students are not shy about challenging, even rejecting, one another's opinion — including the rabbi's! After all, if we agreed on everything, then there'd be no need to come back each week. (Then again, there are bagels.)
Continue reading Wendl's commentary »
Sunday April 3rd |
Post a comment/View comments »
(1 comments)
Parashat Sh'mni (April 2, 2016)
By Cara L. Glickman
IN THIS WEEK'S
PARASHAH, SH'MINI,
or the "eighth day," we learn about ritual practices. Moses, Aaron, his sons and other priests are busy sacrificing and creating signs to appease God while demonstrating to the people of Israel God's power and might. After God instructs Moses and Aaron to bring forth fire as a part of a ritual act, two of Aaron's sons appear to take things into their own hands.
Continue reading Cara's commentary »
Sunday March 27th |
Post a comment/View comments »
(0 comments)