---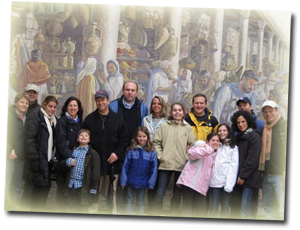 Standing in front of a mural depicting
the market of Jerusalem circa the year zero
Wednesday, December 30, 2009
e had a wonderful first day in Jerusalem! It began with a short ride from the hotel to the
Old City
. There, the holiest sites of Judaism, Christianity and Islam sit side by side. Avi, our guide, gave us an overview of the
centuries of history
that were before us. We toured the
Jewish Quarter
, where Jews were forced from their homes in 1948 and returned in 1967.
We all held hands as we approached the Temple Mount from above and saw the
Western Wall (the Kotel)
for the first time. What a sight! The next stop was the Southern Wall, where each family composed its own family prayer. We toured the
tunnels
along the Western Wall and saw the many layers of history of this historic and sacred site.
We were able to spend time at the Kotel and place our handwritten prayers in the spaces between the large stones. It was a special and moving experience. Then, it was a walk through the narrow, bustling streets of the Arab Quarter. We had time for lunch (falafel, pizza, shwarma!) and some shopping.
After lunch it was off to the Judean foothills for an archaeological dig at
Bet Guvrin Caves
. We got our hands dirty as we uncovered pottery and other remains from the Hellenistic period, 2,300 years ago. For the adventurous among us, we crawled through candlelit caves full of narrow passages. It was an exciting and fun-filled afternoon.
The drive back to Jerusalem was quiet as we looked out the windows at the beautiful, desolate Judean landscape and listened to Avi tell us of what we had in store for us on Thursday. (
Masada
!)
— The Janover Family
Back to Israel Journal (2009)
Click on the thumbnails below to download and print
larger versions of the photos.
| | | | |
| --- | --- | --- | --- |
| In the alleyways of the Old City of Jerusalem | Kids help Avi find our location in Jerusalem | Thinking about how lucky we are to be able to come to Jerusalem | First view of the Western Wall and the Temple Mount |
| On the rooftops of Jerusalem near the Temple Mount | Getting ready to enter the Jaffa Gate | Families composing their family prayers | Each family ascends the Southern Wall steps to offer its prayer |
| Each family ascends the Southern Wall steps to offer its prayer | Each family ascends the Southern Wall steps to offer its prayer | Each family ascends the Southern Wall steps to offer its prayer | Each family offers its prayer at the Southern Wall of the Temple Mount |
| Approaching the Western Wall and taking a moment for prayer | Just like Temple Emanu-El | Checking out a huge stone in the Western Wall tunnel | It's amazing how long the Western Wall tunnels are! |
| Inside the Western Wall tunnels | A pillar in what used to be the marketplace and is now in the Western Wall tunnel | Having some fun in the tunnel | Standing in front of an ancient cistern in the Western Wall tunnel |
| Getting ready to dig in the Judean Hills | Each hand represents another layer of history | Going into the caves we'll excavate | Kids with our great archeological dig guide, Mark |
| Digging up history from 2,100 years ago | The stuff we're finding is from the time of the Maccabees. | Digging is fun! | Check out the cool pot bottom! |
| What will we find in this spot? | Seeing if they can get any more meat off of this 2,000-year-old bone | Looking for additional pieces of pottery in the dirt we brought out of the cave | Entering the cave for some spelunking |
| Going spelunking! | Showing off their diplomas from Dig-for-a-Day | | |