---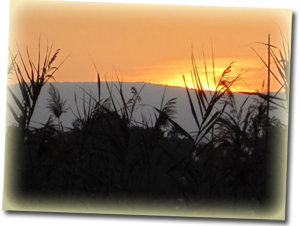 Sunset in the Hula Valley
Sunday, December 27, 2009
hat a day! Mosaics, archeological remains, goats, pita, birds and more made this day of travel a wonderful, colorful experience.
After another fabulous breakfast at the David Intercontinental Hotel in Tel Aviv, we checked out of the hotel and boarded the bus for our first long travel day.
We began by driving through Tel Aviv and starting our journey toward the north. As we passed by the cities north of Tel Aviv, Avi, our guide, explained some of the history of the area including that of Zichron Yaakov, a city on a hill where he grew up. An hour and a half of driving brought us to the beautiful site of
Zippori
, an ancient city dating from Roman times.
Zippori was a mixed city, meaning that both Jews and Romans lived in the town. We made our way to the theater and learned about the debates our ancestors had about whether it was okay for a Jew to attend the VERY Roman performances that were held in the theater. Avi also reminded us that learning was one of the main ways that we've maintained our identity over the years.
Our next stop was an ancient mansion. Here we imagined wealthy Jews reclining around the beautiful mosaic to celebrate the festival of Passover. We also considered that the famous rabbi, Judah HaNasi, may have lived in that very house. Our final stop in Zippori: the synagogue. Avi explained the details of the mosaic on the floor, including the signs on the zodiac right next to many Jewish symbols and stories. How amazing to see that even in that time, contemporary aesthetics were used to inspire people to connect with Jewish ideas and themes.
After a short bus ride, we arrived at
Kfar Kedem
, a village that recreates parts of life in ancient Israel. Our guide Menachem first helped us get into character by dressing in the clothing of the time. We then learned to appreciate where our bread comes from by hearing about farming the land and helping to thresh and mill the wheat to make flour. (There was even a wooden donkey named Mark to help explain the process!) We also got a chance to make pita on an open fire and then to eat it with a delicious spice called Zatar. This appetizer was followed by lunch in a traditional Middle Eastern tent where we reclined on pillows while eating rice, pita, hummus, salad and meat with our hands. Donkey rides awaited us after the meal: One person rides, another leads the donkey. Seems simple yet some of our donkeys were not being very cooperative, which made for some good laughs! We concluded our visit with tea and dessert.
The final stop on our way to the north was the
Hula Valley Nature Reserve
. To arrive in a huge stand of impossibly tall eucalyptus trees was our first surprise. The next surprise? When the introductory movies started, we found out that it was not only 3D, it was 4D! When the birds flew, the seats shook; when the clouds moved, the wind blew; when the waves crashed, the water(!!!!) sprayed. Everyone had a good laugh as we enjoyed learning about how more than 500,000,000 birds migrate through this tiny nature reserve every year. After learning about the park in the movie, we went for a beautiful sunset walk, where we saw birds, otters, catfish and other fauna, as well as flora.
At last we arrived at beautiful Kibbutz Kfar Blum and checked into the
Pastorale Guest House
. After a yummy buffet dinner, we all gathered in a room for a round of paper-bag dramatics. Everyone brought an object that was placed in one of three bags. We then divided into three groups, each of which needed to create a skit about the trip using every object in its bag. There was a lot of laughter and joking around to end a very long, very fun day in Israel!
— Rabbi Howard Goldsmith
Back to Israel Journal (2009)
Click on the thumbnails below to download and print
larger versions of the photos.
| | | | |
| --- | --- | --- | --- |
| Looking through a mill stone | The group in the ancient theater in Zippori | Reclining in an ancient mansion in Zippori as they did in ancient days | Enjoying the great weather |
| Menachem explaining how to make flour in ancient days | Ancient dress...cool shades! | All dressed up and ready to go! | The group in traditional garb |
| The wooden donkey named Mark demonstrates how to plow | Grinding wheat into flour using a mill stone | We all made fresh pitas! | The kids helping Menachem get the donkey ready |
| Saul enjoying a donkey ride | Helping each other get on the donkey | Donkey Ride!!! | Checking out the wildlife |
| On a bridge in the Hula National Park | The view of a bird blind in the Hula Valley | Preparing to re-enact part of trip using a mix of items | Reclining like the ancients of Zippori |
| Re-enacting the donkey rides | Going into sales | | |