---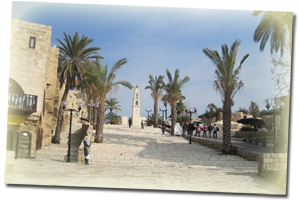 The famous view of
St. Peter's Church in Old Jaffa
Saturday, December 26, 2009
e woke to another beautiful day in Israel. The weather was clear, and last night our group had the opportunity to catch up on sleep.
After breakfast, Rabbi Goldsmith was very kind to arrange a date with a local artist named Yoram Gal. We traveled to Old Jaffa to meet Yoram, who gave us a tour of this port city, which is approximately 4,000 years old. Visually we could see the layers of the city, which are approximately 300 years old and were built by the Ottomans. Yoram introduced us to his wife and son, invited us into his home and then to his art studio, which was located nearby.
At 11 AM we headed back to the hotel in Tel Aviv to meet the group and depart for Mishkanot Ruth, a Reform cultural and religious center in Jaffa. There we met with Rabbi Meir Azari, one of the leaders of the Reform Movement in Israel and rabbi of
Congregation Beit Daniel
. After hearing from Meir, we had lunch at Mishkanot Ruth, one of Beit Daniel's centers in Tel Aviv.
Mishkanot Ruth is a modern building of concrete and steel that was constructed a few years ago for the temple, in part with private funds as well as funds provided by the city of Tel Aviv. During the visit, we learned some fascinating things about the Reform and Conservative movements in Israel and what it is like to be a Reform Jew in Israel. For example, an Orthodox rabbi is one of the leaders of the state, so there is little, if any, separation of religion and state; when dignitaries travel to Israel, they are greeted by the prime minister and the Orthodox rabbi; and if you are Jewish and want to be married or buried in Israel, then you must comply with Jewish Orthodox tradition and rules.
Lunch was served in the temple dining room, and we had the pleasure of eating with two lovely local families. We had the opportunity to discuss what life is like for them in Israel, and we shared with them what life is like for our families in New York City.
After lunch we traveled to a nearby school — the Louis Weisfeld Early Education Center, which serves the area near Mishkanot Ruth. We were there to paint a mural and beautify the school area for the children. A local artist provided an outline of a mural, and we worked with the children and the artist to paint the mural. After we completed this work, we traveled back to the hotel to get ready for dinner. Each family made independent arrangements for dinner.
At 9 PM we met at the theater to see the show
Mayumana
. This show has traveled worldwide, and we quickly learned why it is so popular. The show is full of energy led by a group of young, attractive dancers and musicians.
Ready for another good night's sleep, we returned to the hotel at 11 PM.
— The Schenker Family
Back to Israel Journal (2009)
Click on the thumbnails below to download and print
larger versions of the photos.
| | | | |
| --- | --- | --- | --- |
| Howie with artists in Old Jaffa | Artist admires the work of a younger artist! | Checking out the artwork of Yoram Gal in his studio | Avi receives help explaining the history of the Land of Israel. |
| Rabbi Meir Azari meets with our group to explain the challenges facing Reform Judaism in Israel. | In the beginning... | Adding some color... | Beautifying the doorway to the school |
| Making a butterfly beautiful | Everyone gets into the act... | Our expert cloud painter | Busy at work... |
| The end result... | A newly bright and cheery entrance | A happy, paint-covered painter | Emanu-El and Israelis after painting the murals at the school |
| Mayumana Theater | | | |