---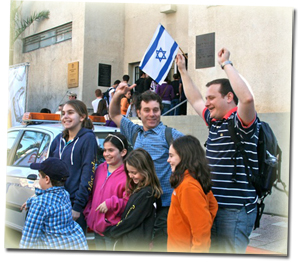 Friday, December 25, 2009
t's Christmas Day in Tel Aviv, and you'd never know it. The burst of Friday's activity involves preparing for the coming of Shabbat rather than that of Ol' St. Nick.
In the glow of the early morning light, Rabbi Howard Goldsmith and Saul Kaiserman lead us in prayer. The Cohns, Janovers, Schenkers and Kahanes begin our journey in song at Sir Charles Clore Park, fronting on the Mediterranean Sea, as we remember the founding of the city of Tel Aviv 100 years ago, a city literally carved from the desert sands. We are reminded by Saul that we should think of the Israeli people as our extended family. "Be more than a tourist," he entreats us.
Led by our intrepid guide Avi Weinstein, we make our first stop at the
Ayalon Institute
, a kibbutz that housed an underground bullet factory, which was active during the War of Independence. Then to
Independence Hall
, where David Ben-Gurion declared the first Jewish state. Seventy years later, we Jews feel a genuine sense of being both welcome and wanted in Israel.
Next, on to the Carmel food market and the
arts-and-crafts fair
. People on people. Harry purchased a carved winged wooded dragon and companion owl.
Lunch was left up to each of us. So, the Kahanes organized our culinary adventure at Catit, recommended by an Israeli friend whose sister lives in Tel Aviv. It was up to the best New York standards of both food and service. We recommend it.
Barely time to recover, we board the bus for neighboring Jaffa — a mosiac of Jews, Christains and Moslems, and perhaps the oldest port city in the world — to celebrate Shabbat within the ancient walls of the
Old Jaffa Antiquities Museum
. Jonah set sail from Jaffa, and the cedars for the construction of the Temple in Jerusalem passed through Jaffa.
Following a perfectly lovely Shabbat service led and sung by Rabbi Goldsmith and Saul Kaiserman, and a most unusual "show and tell," we retired to a Shabbat feast served in the museum. We finished our meal by singing "Happy Birthday" to Bob Cohn.
Our day was filled with new experiences and new friends. We are looking forward to the surprises tomorrow holds in store.
— William Kahane
Back to Israel Journal (2009)
Click on the thumbnails below to download and print
larger versions of the photos.
| | | | |
| --- | --- | --- | --- |
| What a great welcome! | Enjoying breakfast at the hotel | Early morning prayer | |
| | | Playing on the Tel Aviv waterfront | Our great guide Avi... |
| At the Ayalon Institute | Munitions factory | Tied to our mobile devices like all real Israelis! | |
| Rothschilde Boulevard in Tel Aviv | Avi introduces us to David Ben-Gurion | Art-and-craft fair on Nachalat Benyamin | Carmel Market |
| Entrance to the Jaffa Museum | Services in the Jaffa Museum | Lighting Shabbat candles | Leading Sh'ma |
| Helping with HaMotzi | A birthday surprise at the end of a great day | | |