---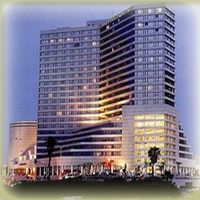 Thursday, December 24, 2009
n the first night, we all went out for dinner. It was nice not to be on a bumpy plane — especially when they wake you up at one o'clock in the morning to see if you want a vegetarian meal or not. I also noticed that pretty much there were no Christmas lights all up in your face. That was a big change for me. Finally there were great conversations and a fabulous kiddush! I think that was a great start to our journey.
— Emily Janover (Fourth Grade)
Some other notes on the start of our trip from Rabbi Goldsmith:
Emily put it really well! After a long plane ride and late arrivals, we all made it to Tel Aviv safe and sound and met up at
Kimmel
restaurant for a wonderful meal. We ate from their endless tasting menu while enjoying glasses of wine and good company. After dinner, we all headed back to the hotel.
We're staying at the
David Intercontinental Hotel
in Tel Aviv. It is right on the beach and near the very cool neighborhood of Neve Tzedek. We've got an early start tomorrow, so it's time to get some sleep… It is very exciting to be in the Holy Land with this wonderful, laid back group of people.
Back to Israel Journal (2009)