---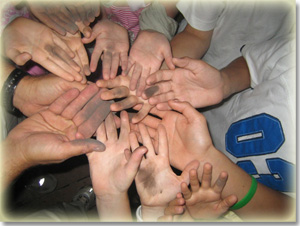 Two thousand year ago, the Romans burnt Jerusalem, but today we're still here. Our kids show the soot from that Roman destruction.
Today we offer two perspectives on the day's activities. Click on the links below to read the essays.
Back to Israel Journal (2008)
Click on the thumbnails below to view larger versions of the photos and a slideshow.
| | | | |
| --- | --- | --- | --- |
| Preparing to enter the Western Wall tunnels... | The Wolfs gear up for a trip up to the Western Wall. | This tunnel passage is a bit too low for Josh.... | Some modestly dressed girls enjoy the tunnel. |
| Placing a note in the wall far away from the crowd outside... | G.G. chillin' by a Herodian column... | In the Southern Wall excavation site... | On top of the rocks at the Southern Wall excavation... |
| The kids enjoying the tour... | Sitting on the corner...of a 2,000-year-old street! | How did they move this 500-ton stone? | Zvi explains the topography of the Temple Mount. |
| Zvi teaches us what we can learn about a person in Jerualsem by the hat he wears. | | | |