---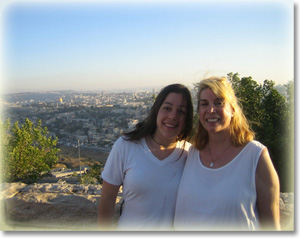 Judy Becker and daughter G.G. Merkel share a special moment overlooking Jerusalem.
very day has been so great on this trip — learning about politics, history, environmental issues, ideologies and each other…all 29 of us. But today I'm out to make a memory, a special memory on this special day.
The wake up call comes at 7:05 A.M. We are at Kibbutz Kafar Blum in Upper Galilee. It's pastoral and gorgeous, filled with plants, sunshine and birdsong. Before leaving, I slip into my pocket my good luck charm of 20 years, a small enamel pendant with a Star of David on one side and a Hebrew inscription on the other, hung from a gold chain. I'm ready to go!
We are on the bus at 8:45 A.M., destined for our first look at Southern Lebanon. By 9 A.M. we are at
Kibbutz Misgav-am
, the northernmost kibbutz in Israel. Standing at the border, one side Israel, the other side Lebanon, we observe a peaceful Lebanese community. We see no people, but we know that if we can see them, then they can see us. UN helicopters fly above, and armed soldiers patrol.
Our resident guide, Suzanne Bar-Tal from Ohio, tells us how she made
aliyah
to Israel 30 years ago. She describes the historic civilizations that have tried to conquer and control the area. We hear struggle, hardship and persistence in her voice and know by her expressions that she has seen death. She's still here because of her Zionism. With wings on her heart and a wry sense of humor, she lives on the edge. She knows that there will be another attack…not if but when. She says, "Kick off your shoes and feel your
shorashim
(your roots) going into the land."
While the adults and teens learn about history, security and politics, the kids enter the children's bomb shelter. There they learn what it means to be in the shelter all day long, and they make a list of the rules that they would follow if they had to be in the shelter (for example, share what we bring equally, include everybody, use "indoor" voices and don't complain). After compiling a list of their rules, the kids make cards for the children of the kibbutz and wrap presents. The next time the kids need to come into the shelter, they will have presents and handmade cards waiting for them from the children of Temple Emanu-El.
For our next stop, we find ourselves on the
Manara
cable car climbing up the cliffs that overlook the Golan Heights and the Hula Valley, which was once a swamp but is now lush and green. The cable car goes higher and shakes as it connects with each tower on the way. We get off at the zipline, put on harnesses…and jump!…again putting ourselves in God's hands. We head on to the alpine slide and lunch.
Next, we go to the gorgeous
Gan Hashlosha National Park
, situated at the foot of Mount Gilboa, for a swim in the fresh-water springs. This day is going quickly, but there is still time for my special memory.
We board the bus and begin our drive southward through the Jordan Rift Valley. This drive will take 1.5 hours. We are getting closer to Jerusalem, and the excitement is mounting. We follow the Jordan River, the West Bank and the border with Jordan, where a soldier combs the dusty path for foot prints. We pass through the Judean Desert and climb the hills of Jerusalem to the strains of "Y'rushalayim Shel Zahav." Finally we stop at Mount Scopus. Once off the bus, Rabbi Howie Goldsmith and Saul Kaiserman, our director of Lifelong Learning, lead us in
Mah Tovu
and the
Shehecheyanu
, praising God for sustaining us and enabling us to be here today. We drink wine and pray together.
My special memory? I make two. Every year we say, "Next year in Jerusalem." Today, June 17, 2008, is my daughter G.G. Merkel's 17th birthday. I take my good luck charm out of my pocket and hand it to Rabbi Goldsmith, who interprets the Hebrew inscription: "If I forget you Jerusalem, may I forget my right hand." (Psalm 137) I slip the pendant around G.G.'s neck and say, "Happy birthday, sweetheart. I give you Jerusalem!" We stand arm in arm looking at the Holy City for the first time together, making a memory we will never forget.
My second memory? It is the first time ever that a group from Temple Emanu-El (all 29 of us) have entered Jerusalem together.
— Judith Becker
Back to Israel Journal (2008)
Click on the thumbnails below to view
larger versions of the photos and a slideshow.
| | | | |
| --- | --- | --- | --- |
| The gang at breakfast in the kibbutz dining room. | Getting a talk about border security (Lebanon in the background). | Our youth counselor, Adi, helps Emanu-El kids make cards for kids of the kibbutz. | Jen helps Arden with a card she's making for the children in the kibbutz. |
| Getting ready for the zipline with the Hula Valley in the background. | Down goes G.G., the birthday girl. | This is AWESOME! | Liz makes alpine sliding look glamorous. |
| Saul gives us a happy wave from the alpine slide. | Swimming with Rabbi Howie in the natural springs. | This is SO much better than a shower! | Saul shows members of the group some of the special sites from Mount Scopus. |
| Rabbi Goldsmith leads the group in prayer in Jerusalem. | The DeLotts couldn't be happier to be in Jerusalem. | The Weintraubs capture this wonderful moment. | The moon rises over the Old City at sunset. Welcome to Jerusalem! |