---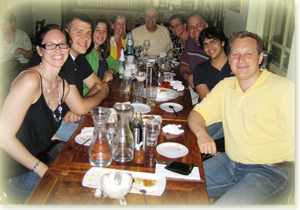 Enjoying an Italian feast
before attending "Mayumana"
ur first full day in Israel started with a lazy Shabbat morning — for Liz and Jory and me, at least. We lounged around our hotel room all morning until finally rousing ourselves for the breakfast buffet at around 10 A.M., where we lingered over the cheeses and fruits and coffee for at least an hour. (I later learned that pretty much everybody else took more advantage of the free morning — swimming in the pool or on the beach, going for a long walk along the boardwalk to the port, or ALL of these things.)
At noon, we headed over to Rothschild Boulevard for a quick "name-game" ("Awesome Arden," "Literal Lynda" and "Metaphorical Melanie" are all on the tour, it turns out — as is "Singing Saul") and then a scavenger hunt to get acquainted with Tel Aviv, old and new. I lived in a neighborhood not so far away from this street when I was in my mid-20s, and it was terrific to walk under the trees and people-watch, with all the bike riders and young hipsters and elderly couples mingling in the cafes. A lot of the old buildings have been restored, but I think the majority of us were more interested in the huge "Max Brenner Chocolate" store.
We had a light lunch in Rehovot, the hometown of Adi, our youth counselor. (Her parents came out to meet us; they are very proud of their daughter.) Then, we had a fascinating tour of the
underground munitions factory
at Kibbutz Ayalon. Teddy pointed out to me that that the tour guide did an excellent job explaining why the men and women who secretly manufactured bullets for the War of Independence were willing to risk their lives: "They felt that they were part of something big and important and that they were changing the world for the better."
We ended Shabbat with a
Havdalah
ceremony, wishing one another a
shavua tov
, a good week. Next Shabbat, six days from now, we will be in Jerusalem. It will be a very busy week in between.
Everyone has been really terrific with Jory — especially, but not only, the kids in our group — and it is exciting to have her with us here. Liz and Jory won't be joining us for the next two nights in the north of Israel, and this is the first time I have been away from Jory overnight since she was born. So, it will be a big reunion in Jerusalem on Tuesday!
Anyway, I need to get ready for dinner and an evening out in Tel Aviv. Tonight most of us are going to see some sort of avant-garde theatrical production called "
Mayumana
." I think it is supposed to be like "Stomp!"
— Saul Kaiserman, Director of Lifelong Learning
P.S. "Mayumana" was INCREDIBLE! It featured not only an amazingly talented troupe of percussionists and dancers but also one of Israel's most famous singer-songwriters, David Broza. All who went had a wonderful time, so it was all smiles on the way home to pack, sleep and then move on for a packed day tomorrow!
Back to Israel Journal (2008)
Click on the thumbnails below to view
larger versions of the photos and a slideshow.
| | | | |
| --- | --- | --- | --- |
| The beach where some of us spent the morning | Our guide Zvi explaining the Tel Aviv scavenger hunt | The DeLotts planning out their scavenger hunt strategy | Ice cream break! |
| Learning how the underground made bullets in secret before the War of Independence | What's on my leg? (Someone found a friend in the secret bullet factory) | Rabbi Goldsmith and Saul Kaiserman get some help leading Havdalah | Mayumana (English) |
| Mayumana (Hebrew) | | | |