---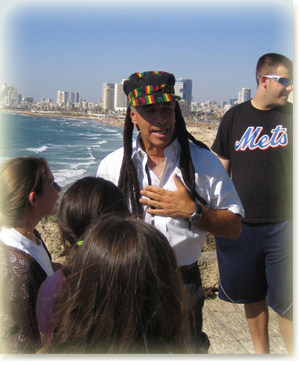 Our guide Zvi uses a funny hat to teach about Modern Israel, with Tel Aviv in the background.
halom — Greetings from Tel Aviv! The journey here from New York was rather long, but we've arrived safely, and everyone is excited about being together in Israel. After picking up our luggage, we met Zvi and Schmuelick, who will be our tour guide and bus driver for the duration of our trip. They are both friendly and knowledgeable, and clearly we are in good hands. No time was wasted as we headed straight to Jaffa, where we met up with Saul Kaiserman (Emanu-El's director of Lifelong Learning), his wife Liz and baby, Jory.
This was our first opportunity to use the wonderful guide book that Rabbi Goldsmith (Howie) prepared and distributed to each of us. It includes a daily schedule of activities, prayers, songs, Hebrew vocabulary, important phone numbers, games for the kids and an opportunity for personal reflection.
Standing at the Jaffa Overlook (the spot where Jonah last stood on dry land before being swallowed up by the whale) provided us with a magnificent view of the coast of Tel Aviv. The water is a crystal clear greenish-blue, and tourists and natives relax on the long stretch of sandy beach. Howie and Saul led the group in song and prayer before we headed to the hotel to check-in.
After freshening up, we met in the hotel lobby and boarded the bus that took us to Mishkanot Ruth Daniel Education and Culture Center in Jaffa for a rooftop Shabbat service led by Howie, Saul and Rabbi Jennifer Goldsmith (Howie's wife). Several members of our group participated in a performance of
Parashat Balak
(Numbers 22:2-25:9), and we all stood and worshipped while facing toward Jerusalem. After, we enjoyed a delicious Shabbat dinner — also on the rooftop — featuring many authentic Israeli dishes. There was a cool breeze…the perfect ending to a long and at times very hot day.
Tomorrow morning we have free time to enjoy a lavish Israeli buffet breakfast, the gorgeous beach and the streets of Tel Aviv before we meet at noon to continue our journey.
— Lynda DeLott
Back to Israel Journal (2008)
Click on the thumbnails below to view
larger versions of the photos and a slideshow.
| | | | |
| --- | --- | --- | --- |
| The Rabbis Goldsmith ready for the flight | Flying over the Mediterranean | Enjoying the flight | Members of our group teaching us a Bible story during Shabbat services |
| The kids after Shabbat dinner | | | |