---
"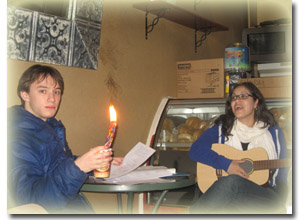 When I march in Selma,
my feet are praying."
— Rabbi Abraham Joshua Heschel; describing his experience when
marching with Dr. King
onoring the legacy of Dr. Martin Luther King Jr. and the Jewish community, which supported the Civil Rights Movement, 15 of Temple Emanu-El's high school students acted on behalf of social justice over the Martin Luther King Jr. holiday weekend. Students volunteered at homeless shelters and soup kitchens in an effort to help those in need and to learn about poverty in New York City. The goal of the weekend — and beyond — was to treat each person we encountered with the respect and honor of being created in God's image.
During the weekend, we partnered with Youth Service Opportunities Project (YSOP) to build a memorable and effective volunteer program for Emanu-El students. Our students' efforts included:
Hosting dinner (prepared by our students) and games for individuals staying at a gay, lesbian and transgendered homeless shelter in Brooklyn; most of the guests were about the same age as our students.
Serving food at several soup kitchens in New York City.
Organizing food at food pantries.
Washing linens for a homeless shelter for adults suffering from addiction and mental illness.
The trip exposed us to the reality of poverty in New York. Many of our stereotypes were discredited, and we learned about the cycle that makes it nearly impossible for impoverished persons to become self-sufficient.
Another beneficial outcome of the trip was the strong friendships that were forged by volunteering and developing compassion for those in need. In addition, we bonded by spending time together at out hotel in Union Square, seeing a great artistic performance (Fuerza Bruta) and singing karaoke.
When asked how they would best remember the trip, some students replied:
The group of friends I made
The feeling of helping people
Always wearing a hairnet to serve food
Creating our own fictional, perfect soup kitchens as part of an educational exercise
Meeting someone my age who was homeless
Back to High School Volunteer Weekend
Click on the thumbnails below to download and print
larger versions of the photos.