---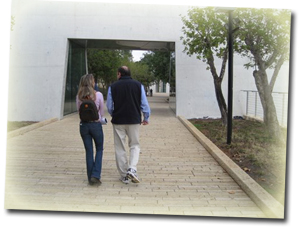 Reflecting after walking through
Yad Vashem, the Israeli National Holocaust Museum, and having a memorial service
oday we visited
Yad Vashem
, the Israeli National Holocaust Memorial in Jerusalem. Today I cried. I cried for 6 million Jews, murdered. I cried for 1.5 million children, murdered. I hated the millions who turned a blind eye to the horrible truth. And I cried for 8-year-old Aliza Landau's father, executed in the woods outside of Lodz, while she clung, half starved, to him.
Today I rejoiced. I rejoiced for Aliza and all those Jews who survived the Holocaust, as well as their children, grandchildren and great grandchildren. And I rejoiced for the Righteous Gentiles who were unwilling to accept the "banality of evil." Aliza eventually was saved by Righteous Gentiles who took her in and nursed her back to health. Aliza emigrated to Israel, met and married Josef, and had a daughter, two sons and five grandchildren.
This evening is Shabbat, and this evening we met Aliza, now a member of
Congregation Mevasseret Zion
. We attended a simply wonderful evening service led by Maya Liebovitz, the charismatic Reform Jewish rabbi and the very first Israeli woman to be ordained a Reform rabbi.
Each Emanu-El family dined with a Mevasseret Zion family. Aliza invited us into her home, prepared a magnificent dinner and, surrounded by part of her extended family, told us her story. Our lives will never be the same as a result.
Earlier in the day Avi had suggested we commit to paper something significant we had achieved and something significant each of us hoped to achieve. As we entered Yad Vashem, Avi explained that so many of the Jews who were alive in Europe in 1930, especially the children, never were able to live their dreams. As we exited, Rabbi Goldsmith explained that our duty was to live ours dreams, each of us, adult and child alike.
While the adults were at Yad Vashem, the children explored the
Bloomfield Science Museum
and enjoyed the kinetic sculpture and demonstrations of magnetism.
In the afternoon, we visited
Mahane Yehuda
with a list of "shopping" items to identify, including falafel, pickled vegetables, live animals and smoked fish. Next we went to Ben Yehuda Street for lunch and shopping.
This was a day for us that ran the emotional spectrum, from great sadness to great happiness. We have seen much and learned much about Israel, the Jewish people and ourselves.
— The Kahane Family
Back to Israel Journal (2009)
Click on the thumbnails below to download and print
larger versions of the photos.
| | | | |
| --- | --- | --- | --- |
| Preparing to enter the Children's Memorial at Yad Vashem | We learn where the name Yad Vashem comes from in the Bible. | The kids talk about the meaning of the Holocaust before heading to the science museum. | Making sure everyone understands who Yad Vashem memorializes |
| Taking a moment after walking through the museum | The hopeful view that greets us after walking through the museum | Enjoying Mahane Yehuda, the Jewish market in Jerusalem | Enjoying the dates, figs and other treats of Mahane Yehuda |
| The variety of spices is endless... | Getting ready to shop on Ben Yehuda Street | Sun setting over Jerusalem as Shabbat sets in | All the children help to say Motzi after services. |
| Each family enjoyed home hospitality with members of Mevasseret Zion, a Reform congregation just outside Jerusalem. | Enjoying a wonderful Shabbat dinner with an amazing family | | |